I'm one of countless former students of Fred's whose career has been helped immeasurably by his generosity and initiative. In class, he was smart, perceptive, funny, occasionally a little mean, and it was always an event to attend a McIver lounge workshop (and a visit to Liuza's or the Pickwick afterwards). I rushed through it all, January 1974-December 1975, never at the time would have imagined a career in academia, wondered why colleagues pursued teaching assistantships. But as my own career happened, Fred became a kind of model for how to navigate it.
     A brief list of my academic excursions into writing about Fred fails to reflect how much his work and support meant as we struggled through the first issues of NCLR. His archives at Duke have lots of letters of gratitude to him from editors starting new little lit mags to whom he's sent a story or a poem, for free, many of them, like me, former students of his. A collection of his creative nonfiction would be a great book for someone to produce–he's published several excellent pieces in NCLR alone. His short essay "The Curtain Rises" was a staple of my assignments to creative nonfiction students; it's an expert example of the best kind of cnf, from a writer who was making cnf before it was a term.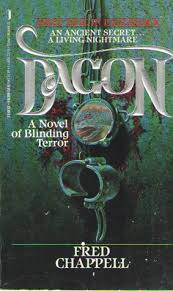 The photo above is from Clifford B. David's blog, Confessions of an Oral Historian.  
    At right: Dagon, Fred's first novel, published in 1968, is a psychological thriller with supernatural elements, a re-telling of a Cthulhu mythos story as Southern gothic. It won Best Foreign Book of the Year from the French Academy and was the one we were trying to figure out while studying at UNCG, mid-1970s–I think Amon Liner was the only one of us who knew who H.P. Lovecraft was. The Gaudy Place, 1973, was a lot less disturbing and easier to talk about.
articles
"The Fred Chappell Papers," North Carolina Literary Review 1.1 summer 1992: 166-170.
"'Friend of Reason': Surveying the Fred Davis Chappell Papers at Duke University" in Dream Garden: The Poetic Vision of Fred Chappell, Patrick Bizzaro, ed. Baton Rouge, LA, 1997: 221-240.
"Fred Chappell: Exploring Sources," Circa [newsletter of Pitt County Arts Council], 1983: 4. 
     with two photos by Carlyn Ebert.
scholarly paper
"Private Lives, Public Papers, and Closure: The Fred Davis Chappell Papers at Duke University," SAMLA, Atlanta, 4 Nov. 1995
• • •
Fred Chappell in NCLR
creative nonfiction
"The Indivisible Presence of Randall Jarrell," summer 1992
"The Curtain Rises," spring 1993
"Peter Taylor: The Genial Mentor," 1996
"Jim Wayne Miller: The Gentle Partisan," 1997
"The Collector: On the Occasion of the Opening  of the Stuart Wright Exhibit," 2012
"We Are All in It," 2014 online
"Orphans & Exiles: The Novels of Angela Davis-Gardner," 2018
fiction & poetry
"The Tipton Tornado," a story, 1998 [this issue includes an interview with Fred, four essays on him, and an excerpt from I Am One of You Forever.]
"Gift of Roses," a fantasy story, 2002
"Shining in and out of Darkness," "The Collector," and "Latecomer," three poems for Stuart Wright, 2012
"After Hours" and "Shaftesbury," two poems, 2014
"Enlightenment Fables," a verse sequence, 2017
"Judgment Day" and "Mission," two poems, 2020 online