The Hellcats from Barbers Point Naval Air Station was one of the best bands in the Hawaiian islands, and they proved it by winning several of the popular battle-of-the-bands competitions.  A March 1945 competition was won by Ray Anthony and his Dolphins, but B-1's music critic for the base newspaper, Otto Harris, didn't like the judges' decision that put the Hellcats second. "The Hellcats are second only to the Jungleers," (who were not in this battle) he proclaimed. The number one jazz band from B-1, the Manana Meteors, placed third.
The Hellcats boasted one of the top acts in the Sharps and Flats, who had been featured with Duke Ellington's orchestra before enlisting. They were popular in Chicago before the war and had been features with the Great Lakes Navy radio band, especially on its weekly broadcasts. Thurman O. "Red" Cooper played vibraphone and drums; Arvid M. Garrett, guitar; and Leroy N. Morrison, bass. They shared vocals. As Three Sharps & a Flat they recorded for Decca, Okeh and other labels. Two of their songs are readily available on YouTube.
The Hellcats' star was trumpeter Harry "Pee Wee" Jackson, from Cleveland, whose nickname was "Gabriel." He had played with Fatha Hines' orchestra and Jimmie Lunceford's band prior to enlisting.
The Hellcats included players who had formerly been in bands fronted by Duke Ellington, Fletcher Henderson, Ella Fitzgerald, Lucky Millinder, Les Hite, Count Basie, Fats Waller, and Tiny Bradshaw.
The band included several college players, representing Alabama State, Temple, West Virginia State, and Atlanta University.
Also in the Barbers Point Hellcats:
• Lonnie Simmons
• Henry Kenneth Stewart, trombone, a graduate of Northwestern University and Chicago Teachers College, who had taught in Chicago public schools for five years before becoming a professional musician
• James Ocie Johnson, drums
• William Butler Horner, trumpet, from Detroit
• Frank Derrick, clarinet, arranger, leader of the dance band, from Chicago
• Earl L. Freeman, sax & arranger, from Chicago
• Vernon L. Smith, trumpet, from Chicago
• Harlan A. Floyd, trombone, from Saginaw, Michigan
• Eugene A. Gilbeaux, from Beaumont, Texas
• John B. McConnell, trombone, from NY City
• Nelson S. Peterson, clarinet, from Hinton, West Virginia
• Frederick A. Smith, trumpet, from Stockton, California
• Saunders O. Wilkins, sax, from Detroit Mich.
• L.K. Oakes, bandmaster, chief musician, and composer of several of the band's numbers, from Isle, Minn.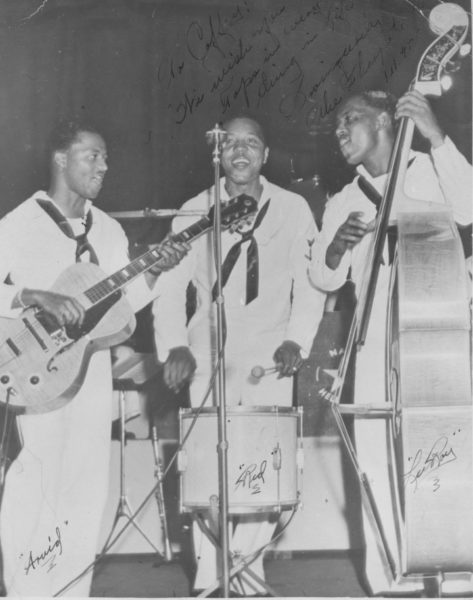 Sharps & Flats photo
courtesy of Lisbeth Bock. Photo is autographed to her father, who had seen them perform in Hawaii.
Sources
Harris, Otto. "Musically Speaking" Mananan 13 May 1945: 7.
"17-Piece navy Band Is Tops." Chicago Defender 28 July 1944: 14. "Star Musicians Triumph in South Pacific Orchestra." Chicago Defender 15 July 1944: 6.
Note on photo of Jungleers and Hellcats: U.S.Army photograph is identified as having been taken at a War Bond Rally in the Hawaiian Armory, June 19, 1945. Assuming the date is correct, it would not have pictured John Coltrane, who had not joined the Navy at this time. He was later stationed at the Navy's Manana Barracks, where he played with the Melody Masters.