Harold Dejan thought that the Navy band at Lakefront had gotten "the cream of the crop" of local musicians. "They took all the best musicians you could find," he recalled, including his brother, Leo, and Willie Humphrey. "They had all the top musicians." Wendell Eugene, who played in that band, agreed, telling Barry Martyn in 1999 that the Lakefront band was clearly the better of the two. But the Algiers band also had an impressive roster of some of New Orleans' finest musicians, including Harold Dejan, Adolphe Alexander, Paul Barnes, and William Casimir, and they formed from their ranks a Dixieland band and, with other locals, one the most popular dance bands in town, the Gobs of Rhythm, which played regular club gigs in town.
That Algiers station would get a black Navy band was announced locally in the Louisiana Weekly on August 15, 1942: "Heartening news to local Negroes who were unable to enlist as members of the first band is the announcement made today by Lieutenant Kenneth C. Elliot, officer in charge of the local recruiting station, that another navy band would be formed within the next few days." It would have the same qualifications: "Applicants must not be under 17 years of age and not over 50. They must be able to pass the navy physical examination, and must be able to read music scores. There are no educational requirements."
     Harold Dejan remembered being at Great Lakes for training for 16 weeks: "Every time we were supposed to leave, they made our chief recruit another band. So we took off from boots about three times. Everything went well. Oh, you wouldn't know there were so many musicians in the world."
     Harold Dejan recalled that the band played parades quite often: "We used to start playing a march at the river and Canal and play a medley of marches and end up at Rampart and Canal, that's right. We had a good band."
    At Algiers, Dejan played tenor sax with the marching band, baritone sax and clarinet with the orchestra, and in a Dixieland band he led he played alto sax. Dejan also played in what he called a "mixed band" while stationed at Algiers—it included white musicians. This band played regularly at the Gypsy Tea Room (where "the cats and chicks are all on the beam and stay that way") on Sunday evenings, sometimes in a "battle" with local favorite Sidney Desvigne's band. 
      The Louisiana Weekly's "Here It Is" column, written by a local identified only as Mike, reported in August 1944 that the Gobs of Rhythm "can dish it up a la Desvigne any old time and then some." Mike announced in April 1945 that Desvigne's band would battle the Gobs of Rhythm at the Gypsy Tea Room, also calling the Gobs a "mixed band." He notes that the band is led by Bertrand Adams. Other players listed include Pete De Mio (also known as "Grayboy") and a "bass digger [who] is also of the same race," Polo Barnes, Bill Casimir, and Harold Dejan.
     Mike doesn't report who won this battle, but he writes in early 1945, "The Gobs of Rhythm are about tops in these circles."
The Algiers Naval Station was commissioned in 1901 as a dry dock that was operational by January 1902. It proved "perfect in all details" and helped the port of New Orleans because it was usable by merchant vessels and warships alike. Congress appropriated almost $5 million additional for the construction of new buildings and other improvements and the purchase of additional land which pushed the station's river frontage to 3,700 feet with a depth of 3,000 feet. The station was closed briefly for financial reasons about 1913 but reopened in 1915 after Secretary of Navy Josephus Daniels and his assistant, Franklin Delano Roosevelt, visited the site and "were impressed by the splendor of its buildings and their outstanding care and maintenance." Principal among these buildings was a plantation house on the grounds that had attracted the attention of President Theodore Roosevelt and his daughter, Alice, during inspections for the dry dock. The President ordered that the stately magnolias on the base site not be disturbed and recommended that the mansion be used as the Admiral's home. It later became the home of the Commandant of the Eighth Naval District. During World War, Algiers Station operated as Receiving Station and Industrial Navy Yard for repairing vessels, housing machine, blacksmith, boiler, and carpentry shops and a foundry with "the largest rollers for rolling steel plates in the South." Submarine chasers, 88-foot harbor tugs, and seaplane wrecking barges were built there, and captured German ships were repaired and remodeled. The base also included a supply department and hospital, and a fireman's and machinist mate's school. Most operations at the base ceased in June 1933, and for the next two years the base was used to house transient military personnel; from December 1938 to September 1942, the National Youth Administration used most of the station as a training school, housing as many as 1,500 youth at a time. The original dry dock was disassembled and sent through the Panama Canal to Pearl Harbor in the buildup to World War II, which saw a resurgent Navy presence at Algiers, which was formally re-opened in 1939. During World War II, the base had a Supply Department used to outfit the many Navy vessels being constructed in the region; an armed guard center that trained guards for merchant ships; an inspections center; a landing craft program that outfitted LST (landing supply troop) vessels; and a new dry dock. Also operational there were firefighting and gunnery schools.
     Although not much is currently known about the activities of the Algiers Station Navy Band, a roster of musicians who played with it is impressive:
Bertrand Adams, trombone. Adams is cited by Mike in his "Here It Is" column as leader of the Gobs of Rhythm.
Adolphe Alexander, Jr.,"Tats" Alexander, Saxophones, clarinet, bass horn. "Tats" was born in New Orleans, July 15, 1898 and died in 1969.
     He was with the Tuxedo Brass Band, 1921; played on riverboats with Sidney Desvigne's orchestra, 1921-23; with WPA bands during the Depression; with Papa Celestin from mid-40s to '54; with Bunk Johnson's Band in 1945; with the Eureka Brass band; retired from music in 1955.
Robert Anthony, trumpet.
Paul D. "Polo" Barnes, clarinet, sax.
b. NOLA Nov 22, 1902; d. NOLA April 13, 1981.
The brother of Emile Barnes, Polo played with the Young Tuxedo Orchestra, 1920; the Original Tuxedo Orchestra with Papa Celestin & Ridgley in '21; with Papa Celestin till 1927; then with King Oliver until '35 (and also kept a diary of those years); and with Kid Howard at Lavida. He stayed in New York for a while after the war, then returned to NOLA. He composed "My Josephine," recorded by Papa Celestin.
     McNeal Breaux said that Barnes was the last person he knew still playing  an E-flat clarinet: "Up until 1968 he played it in brass band. I saw him play with the Eureka band one time and he played that E-flat clarinet"
Bertrand Adams Brooks, trombone. Brooks is identified in one of the band photos in the NOLA Jazz Club collection. 
Thomas J. Brooks, Jr. trombone.
Originally from Tennessee, Brooks was sent to Algiers after training at Camp Robert Smalls: "They needed a trombone player in a hurry. I filled the bill–I could read and write music, so off I went. It turned out to be one of the greatest experiences of my life. I remember the good times we had off base, enjoying our liberty passes on Rampart Street and Bourbon Street. Our job was to play a weekly set for something called the "ships Company Dance for White Sailors." But eventually they had dances for the Negro sailors as well. We played for them all, including picnics, commission ceremonies for new ships leaving the naval base and other social events for Navy men throughout Louisiana. One of my greatest thrills as a young man was the time the great Louis Armstrong came to our base and played with us."
     After his honorable discharge from the Navy on March 16, 1946, Brooks attended Tennessee State University, where he played with the Tennessee State Collegians Band. "We played Carnegie hall [and] won a national contest as the best college band. We played the Savoy Ballroom in NewYork, and the football classics in Washington, DC, and we played all throughout the South.
     He earned bachelor's and Master's degrees in music education and taught at Tennessee State for 37 years. 
William Casimir, clarinet.
Bill Casimir, brother of John, played on the SS Capitol in Fats Pichon's band with Manuel Crusto, who played in the New Orleans Lakefront Navy Band.
Vernon B. Cooper (white), bandmaster, who is credited with having organized the band in 1942.
Harold Dejan,  e-flat clarinet, saxophone.
One of the most beloved of all New Orleans musicians, Harold Dejan was born on February 4, 1909 and died on July 5, 2002.
     Dejan was renowned as a performer, band leader, and friend to any in need. He led several small rhythm & blues groups in New Orleans and was in his brother Leo's Moonlight Serenaders about 1918. He toured with the Joyland Revelers and Ridgley's Tuxedo Band in the 1920s and then quit music briefly. In the '30s he worked on the steamer SS Dixie, which sailed from New York to New Orleans, and the SS Ouchita on Lake Ponchartrain; in the '50s, with the Young Tuxedo Brass Band and then as leader of the Olympia Brass Band (with fellow Navy bandsman Wendell Eugene on trombone). Dejan also led what Theodore Purnell called "the only Dixieland jazz band in the Navy" during World War II, comprised of players from the Algiers Navy band and others. Dejan, he said, "didn't play anything he didn't have to lay. When he got threatened with a transfer, he'd not play well until the officer who wanted him out had been transferred, then he'd play well again."
     Barry Martyn recalls meeting and interviewing Dejan in the documentary "Harold Dejan: A Sentimental Journey," which is available on Youtube.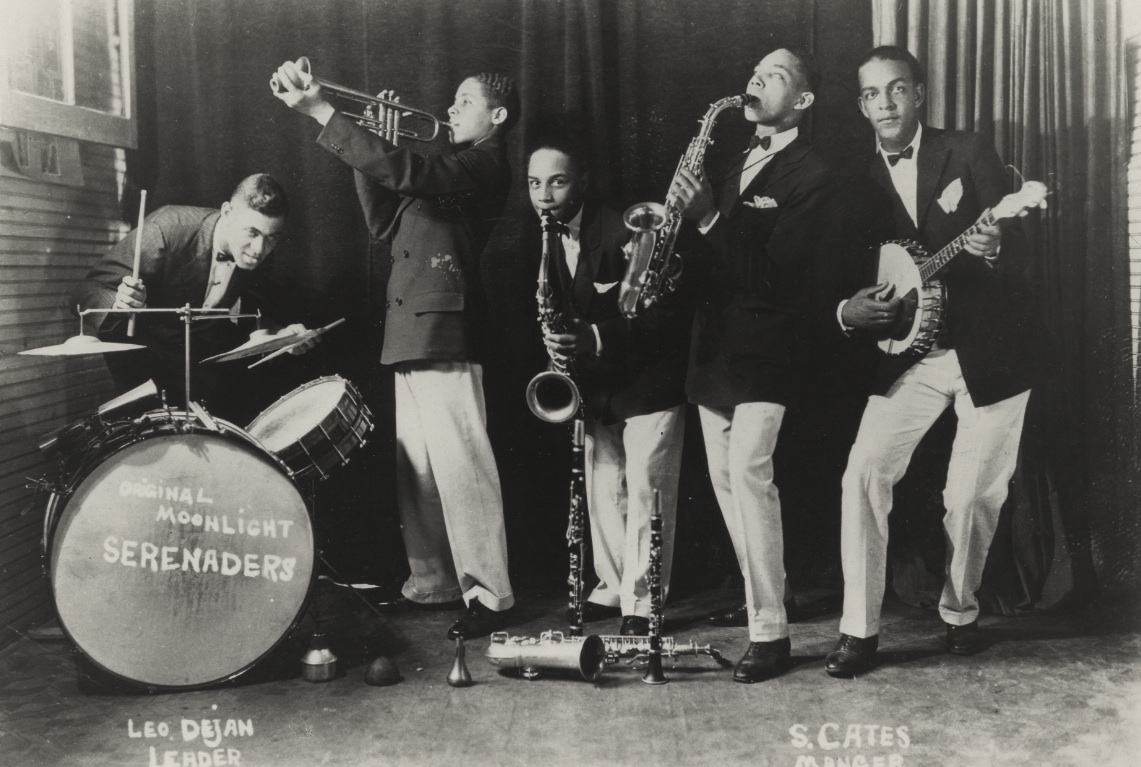 The Original Moonlight Seranaders, 1919-21, with Leo Dejan on trumpet, Harold Dejan (middle) on sax; Arnaul Thomas, drums; Henry Casanave, sax, Sidney Cates, banjo. Courtesy of the New Orleans Jazz Club Collection of the Louisiana State Museum
Sydney Dufachard, clarinet.
Frank "Dude" Fields (May 2, 1914 – Sept. 18, 2005) , tuba, string bass.
Fields began with the Claiborne Williams band in Donaldsonville, LA, and later played with Papa Celestin; in 1965, with Albert French's band; and with New Camelia Band in '80s. He was named in 1990 to the Jazz All-Stars Honor Roll in New Orleans.
Cie Frazier (Feb. 23, 1904 – Jan. 10, 1983) drums.
New Orleans native Cie Frazier  played with many of the best known dance bands of the city, including A.J. Piron's, Sidney Desvigne's, John Robichaux's, and Papa Celestin's. He began playing professionally in 1921 with Lawrence Marrero, was in the Young Tuxedo Band in 1923, and worked in the ERA and WPA bands in the mid-1930s. He made his first recordings with Celestin in 1927. In later years, he played with Sweet Emma Barrett, the Humphrey Brothers, and Billie and Dee Dee Pierce.
      Local musician and historian Barry Martyn talks about learning drums from Frazier in the documentary "I Had the Best Damn Teacher in the World," which is available on Youtube. 
Vernon Gilbert
Leon Harris
Gilbert Jones, trumpet.
John Jones
Reuben Roddy, alto sax.
b. Joplin, MO May 5, 1906; d. NOLA 1960.
With Eureka Brass Band in 1946 after playing with Count Basie, Bennie Moten and Walter Page; with dance bands led by Kid Thomas in '50s.
Henry Russ, drums, tuba, string bass.
b. NOA Aug 7, 1903.
Bandleader at dance halls in '20s, w/ Peter Lacaze's NOLA Band; in Depression, switched to trumpet and worked with WPA and ERA groups.
Alexander William Spencer, horn.
Herbert Trist/Trisch, clarinet.
Booker Washington.
It's possible that Booker T. Washington was actually Booker T. Glass, who was born in New Orleans on May 10, 1881 and died there on June 25, 1981. Booker T. Glass, who also performed with Harold Dejan in the Great Olympia Band, was re-named Booker T. Washington by the man who adopted him. A plumber who worked at the Algiers Naval Station, Booker T. Washington is remembered by Harold Dejan as a member of the Algiers Navy band. He played in at least one other band, led by Armand Piron, that included the New Orleans Navy musicians Eddie Pierson and Louis Barbarin, who served at the Lakefront station, and Bill Casimir, who served at Algiers.
George A. Williams, trumpet (1910 – 1965), Donaldsonville, Louisiana.
Harold Dejan said that George Williams was the son "of the famous Claiborne Williams" taught music at Donaldsonville and at New Orleans University before volunteering for the Navy, where he earned Mus1c.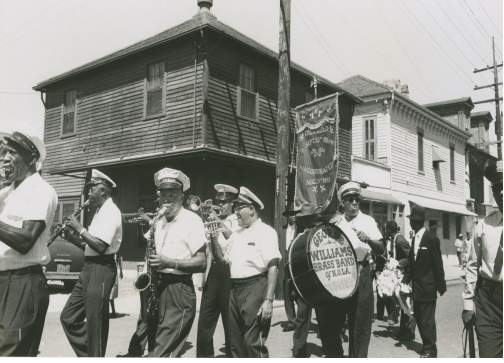 At left, George Williams Brass Band parading at the corner of LaSalle and Josephine streets. Photograph by Ralston Crawford, 1958.  Reproduced from the Jazz Archivist, the online newsletter published by the Hogan Jazz Archives at Tulane University.
     The photo is part of a fascinating article, "Then and Now Photographs," by Anthony DelRosario, who has combined his archival work with an excellent eye for the rare historic architectural treasures of New Orleans still standing, at least in 2012 when it was published.
Sources
Burns, Mick. The Great Olympia Band. New Orleans: Jazzology Press, 2001.
Breaux, McNeal. Interview with Barry Martyn. New Orleans. 2005. New Orleans: Hogan Jazz Archive, Tulane University.
Chase, Dooky. Personal interview with author. New Orleans: Oct. 10, 2014.
Dejan, Harold, with Els W. Velduisen. Everything Is Lovely: A Family Portrait. Pijnacker, the Netherlands: Holland Olympia, 1989.
Eugene, Wendell. Interview with Barry Martyn. 4 Nov. 1999. New Orleans: Hogan Jazz Archives, Tulane University.
Mike. "Here It Is." Louisiana Weekly 19 Aug. 1944: 6.
Mike. "Here It Is." Louisiana Weekly 13 Jan. 1945: 6.
Mike. "Here It Is." Louisiana Weekly 28 Apr. 1945: 6.
"Naval Trumpeter." [George A. Williams] Louisiana Weekly 20 May 1944: 1.
Newhart, Sally. The Original Tuxedo Jazz Band. Mt. Pleasant, SC: History Press, 2013.
Purnell, Theodore. Interview with William Russell. Feb. 3, 1961. New Orleans: Hogan Jazz Archives, Tulane University.
Rose, Al and Edmond Souchon. New Orleans Jazz: A Family Album, 3rd ed. Baton Rouge: Louisiana State UP, 1984.
"23 Musicians Inducted for Naval band." Louisiana Weekly 15 Aug. 1942: 6. Woods, David L. "New Orleans, La., Naval Station, 1803-1818; Algiers Naval Station, 1901-1933, 1939-1947; Naval Station, 1947-1966; Naval Support Activity, 1966-1983." in United States Navy and Marine Bases, Domestic, Paolo E. Coletta, ed. Westport, CT: Greenwood, 1985: 333-336.
"Thomas J. Brooks, Jr." in A Little Known Legacy: The Great Lakes Experience: A Salute to African-American Navy Bandsmen at the Great Lakes Naval Base 1942-45 [Chicago, IL] [Feb. 2003]. Collection of Carl Foster. 
–Alex Albright
May 2021