The Jive Bombers, from Sand Point Naval Air Station, Seattle, Washington, trained at Great Lakes like most African-American Navy musicians during World War II. This 24-piece band arrived at Sand Point Naval Air Station in December 1942. They played for weekly bond rallies in Victory Square in downtown Seattle, participated in parades and played at other Navy functions. Several Navy musicians–Al Hickey, William Funderberg, Robert Braxton, Bob Marshall, Alvin Larkins, and Doc Moore–stayed in Seattle after the war and were active in the lively jazz scene that flourished there.Also like the other black Navy bands of World War II, their chief and bandmaster, Officer Brabenic, was white.
David Keller's excellent book  The Blue Note credits Musicians' Union Local 493, the black musicians' union, as being the "cradle of Seattle's early jazz scene." Among the 100+ photos in The Blue Note several depict combos featuring ex-Navy musicians, who were also active members of the union.
"Jive Bombers" was the name given to the jazz orchestra formed out of the larger band, which is identified by the Navy only as "Naval Air Station Band." Little is known about specific engagements they played. Paul deBarros notes only that they "played USO shows with traveling stars, including Jack Benny." They played a dance for the Carrier Service Unit Operations sailors on December 13, 1943, at the Jungle Inn near Sand Point.
Al Hickey, who played clarinet and saxophone in the Sand Point Navy band, and trumpeter Harry "Doc" Wheeler had co-founded a small combo called the Jive Bombers in Chicago while they were training at Camp Robert Smalls. They took the name with them to Sand Point, and after the war, because their combo, also called the Jive Bombers, had been doing so well on the Seattle jazz scene, they decided to stay there. The band for many years included fellow Sand Point vets William Funderberg and Bob Braxton and two other Navy vets who may also have been stationed at Sand Point: John Willis and Andrew Wade.
Also after the war, Sand Point vet Doc Moore and Braxton played with the Seattle jazz band the Question Marks, which included Elmer Gill, piano, vibraphone; and Milt Price, guitar. Moore was the drummer; Braxton played alto sax and sang.
Another Sand Point vet, Alvin Larkins, became renowned in the Seattle area performing and teaching music for many years. He was a graduate of the University of Washington and played with Sarah Vaughn, Maurice Chevalier and Duke Ellington when they performed in town. He was a founding member of the Rainy City Jazz Band. His brother, Ellis, was Ella Fitzgerald's accompanist. Alvin Larkins Park was named after him in the 1970s.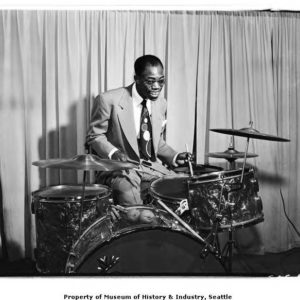 Bob Marshall also played with the Gil Conte Trio in Seattle and then led his own group, the Bob Marshall Sextet.
the swinging Jive Bombers
Photo courtesy of Senior Chief Musician Michael Bayes, US Navy archivist, and the U.S. Navy
African Americans had been stationed at Seattle since 1909, when Fort Lawton became the home base for the Army's all-black 25th Regiment, one of four black regiments collectively known as "buffalo soldiers." By World War I, local blacks were getting jobs on the base. One of the many racial disturbances of World War II that is often overlooked was the riot at Fort Lawton that happened on August 14, 1944, that was due, Keller writes, "to humiliating treatment [of black soldiers] by the military and civilians." Lawton housed German and Italian POWs, and black soldiers felt Italian POWs especially were treated better than they were. After an Italian was killed, 28 black soldiers were convicted of lynching him and dishonorably discharged; in July 2008, the Army set aside the convictions and converted the discharges to "honorable." The last survivor of the 25th died on December 6, 2012.
Situated on the western shore of Lake Washington, Sand Point Naval Air Station was shared during its first years after World War I by the Navy and the Army. By 1928, the Navy controlled it but most of it would not be built until after 1938. Thirty-four buildings had been completed at the station by the end of 1939. By June 1941, the Navy had established schools at Sand Point for aviation metalsmiths, aviation machinist mates, and radiomen. No runways were paved, however, until 1941, so they were often unusable because of rains. By 1943, the base had five paved runways that were also used by British and Russian planes as well as Boeing and Pan American airlines. During the building boom between 1941-43, a local housing crisis was created by the large numbers of transients who came to Seattle looking for work; the crisis was partially eased by the construction of two housing developments, one at Cedarvale, near the station, and the other across Lake Washington at Kirkland, and the construction in 1944 of three new barracks. WAVES were first assigned to Sand Point in 1943; their numbers peaked at 247 in 1944. NAS Seattle was a major supply point for the Thirteenth Naval District, especially Alaska and the Aleutians, and after World War II, it continued to expand. It was disestablished in 1970.
Seattle during World War II had a lively jazz scene as documented by David Keller and Paul deBarros especially. It was a mix of Sand Point Navy musicians, Army musicians from the 29th Special Services band at Fort Lawton, and some of the smartly trained musicians coming out of Garfield High School, and it was furthered by the fact, Keller notes, that "big band musicians like Cab Calloway always made it a point to hit clubs such as the Black and Tan when in Seattle for camaraderie and jams." Because the Army and Navy bands both allowed their players ample evening free time, the jams were frequent and late. Among the many stars who played Seattle during the war were Lucky Millinder, Noble Sissle, Jimmy Lunceford, Fletcher Henderson, Fatha Hines, Louis Armstrong, Coleman Hawkins, Sister Rosetta Tharpe, Ella Fitzgerald, Fats Waller, and the International Sweethearts of Rhythm.
The Jive Bombers, a "dynamic, Louis Jordan-inspired combo," were regulars at the Washington Social Club, where they were known for their jive vocals performed in unison and jump tunes in the manner of Jordan. They played a half-hour version of "Flyin' Home" that featured floor-walking solos by Braxton and Hickey during which customers stuffed dollar bills into their horns.
Muster list of musicians who played with Sand Point Navy band
* David F. Bradford, from New Orleans, comedian, singer & front-man
* Robert W. Braxton, clarinet, alto saxophone
J. Chavis, trumpet
"Deany" Clark
Alvin Cola
Ralph G. David
Charles Ethridge, saxophone
* William Funderberg, saxophone. Funderberg was originally from Alabama, where he was a student of John "Fess" Whatley, "the most stunningly successful music educator in the history of Alabama." He felt lucky to be able to enlist as a musician in the Navy and avoid then the draft. Known locally as "Fundy," he had his own territory band based in Birmingham, where he was a member of Musicians' Local 733–a nice photo of it is included in David Keller's book, which also notes that Fundy was "very disciplined" and had a reputation for "high standards and polish in the way he conducted himself."
"Baby" Greer
* Al Hickey, born in Virginia in 1921, clarinet and tenor saxophone. He bought his first instrument, a clarinet, from a pawn show for 50 cents a week and when it was paid for, he bought a saxophone, teaching himself how to play each by first learning his scales. He earned an athletic scholarship to Fisk University, where he joined the legendary school band, the Fisk Collegians, and met Harry "Doc" Wheeler. Together, they wrote arrangements for the Collegians and gigged in swing bands in Nashville. Paul deBarros interviewed him for his excellent book about Seattle's rich jazz tradition, Jackson Street After Hours.
John Irons, trumpet
? Jarvis
J. Jacquet
*Alvin W. Larkins, tuba
F. Leftrict
Al Marshall, bass
* Robert Louis Marshall, bass
Bob Marshall was president of Musicians' Local 493 in Seattle, owned and operated the House of Entertainment for many years, was a self-made millionaire and a bailiff for Seattle courts. One of his daughters wrote his biography.
Edward/Edwin Middleton
*Duke Moore, drums
Clifton Rice
Rex Stewart, trumpet
Andrew E. Wade, III. clarinet
Harry "Doc" Wheeler, trumpet
Babe Williams, vocals
John Willis, alto saxophone
Robert Young
* indicates members of Musicians' Local 493
Sources:
Coletta, Paolo E. "Sand Point, Seattle, Wash., Naval Air Station, 1922-1970." in United States Navy and Marine Corps Bases, Domestic, Paolo E. Coletta, editor. Westport, CT: Greenwood, 1985. 584-588.
deBarros, Paul. Jackson Street After Hours: the Roots of Jazz in Seattle. Seattle: Sasquatch Books, 1993.
Keller, David. The Blue Note: Seattle's Black Musicians' Union, a pictorial history. 2nd edition. [Seattle], Our House Publishing, 2013.
Lawson, Jacqueline E.A. and John Willis. "Jive Bombers Jazz Band of World War II." HistoryLink.org. Free Online Encyclopedia of Washington State History. Web. 29 Mar. 2014
"Moments in Park History: Naval Air Station Seattle Band 'Jive Bombers.'" Warren G. Magnuson Park History. Seattle.gov. Web. 29 May 2014.
Pikemuccini, Yolonda. I, Robert Louis Marshall. Victoria, BC: Trafford, 2009.