This 17-piece band replaced B-1 at Manana Barracks in October 1945.
A new recruit, another North Carolinian, John Coltrane, joined after it arrived. Coltrane, who entered the Navy as an apprentice seaman, trained at Sampson Naval Training Center in New York. He went from there to Camp Parks at Shoemaker, California, where he stayed from November 1-28 awaiting deployment. He was then transferred to Manana Barracks. 
The original members of the Melody Masters, as listed in the base newsletter, before Coltrane joined:
Ted Webb, Dayton, Ohio, trumpet
Sonny Waters, NY City, vocalist and frontman
Clifford Davis, Chicago, tenor sax
James Esters, Chicago, tenor sax
Luther Jones, Oklahoma City, tenor sax
Sherman Davis, Joliet, IL, alto sax
Harry Bowman, Washington, DC, alto sax
Charles Lockhart, Springfield, Illinois, alto and baritone sax
Louis Brown, St. Paul, alto sax
Curtis Sandez, St. Louis, trumpet
William Massey, Philadelphia, trumpet
C.C. Merritt, Detroit, trumpet
Luther Owens, Mt. Union, Pennsylvania, trombone
Hobart Payne, Detroit, guitar
Herman "Cappy" Alston, East Orange, NJ, drums
Eugene Nelson, Hartford, Connecticut, piano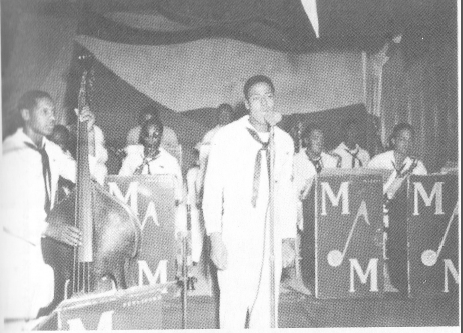 Cuthbert Simpkins identifies Coltrane as 2nd from left, the sax player in shades, in this photo of the Melody Masters.
• • •
Sources
Porter, Lewis. John Coltrane: His Life and Music. Ann Arbor: U of Michigan P, 1999.
Simpkins, Cuthbert Ormond. Coltrane: A Biography. Perth Amboy, NJ: Herndon House, 1975
Wilson, Joe "Frog". "Musically Speaking." Mananan 30 Oct. 1945: 7.