My friend and colleague Karen Baldwin knew Emma Dupree better than I. Much of Karen's life's work in eastern North Carolina is archived in the Karen Baldwin Folklore Collection at ECU. She produced the first academic documentation on Emma and was instrumental in getting her presented the Brown-Hudson Award from the North Carolina Folklore Society in 1984. Dupree also received the North Carolina Heritage Award in 1992. 
     Living in Fountain, I've collected details on her life and enjoyed trying to keep her name and legacy alive, primarily through the Emma Dupree Day that was first held at Fountain Presbyterian Church in 2017. I created the Wikipedia entry on Dupree, using mostly Karen Baldwin's book, Folk Arts and Folklife in and around Pitt County: A Handbook and Resource Guide, which was published by the Folklore Archives at East Carolina University in 1990, and I presented a talk on her at the ECU med school's Laupus Library that you can watch. The Herbal Academy has an excellent entry on her, using a few more of the beautiful photos taken by Mary Ann McDonald. 
But the best source is the terrific documentary made by Dr. Walter Shepherd and ECU medical students in 1978, Little Medicine Thing. Much of it is spent following Mrs. Dupree around her yard in Fountain, three blocks from where I live today, as she explains to students what she's pulling from the ground. Watch it.
     Emma Dupree was born in Falkland, where she spent the first part of her life; she's buried at St. John's Missionary Baptist Church there.
     Just a block from what was once Emma Dupree's personal herb garden in her Fountain yard, at the corner of Jefferson and Mills Streets, we dedicated, on April 16, 2022, a historical marker commemorating her renown.
a partial list of herbs used by Emma Dupree:
sage
double tansy
rabbit tobacco
sweet flag [wetland]
pokeweed
jimson weed
white mint
mullein
maypop [passion flower]
catnip
horseradish
sassafras
silkweed
"healing berry tree"
–Alex Albright
January 2023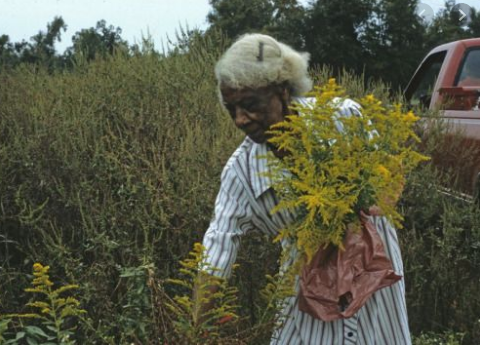 The outdoors photos above were taken by Mary Ann McDonald for the NC Folklife/ NC Arts; Aunt Emma on her porch was loaned to me by her niece, who wasn't sure of the photographer's identity.